Suggested 4-day itinerary: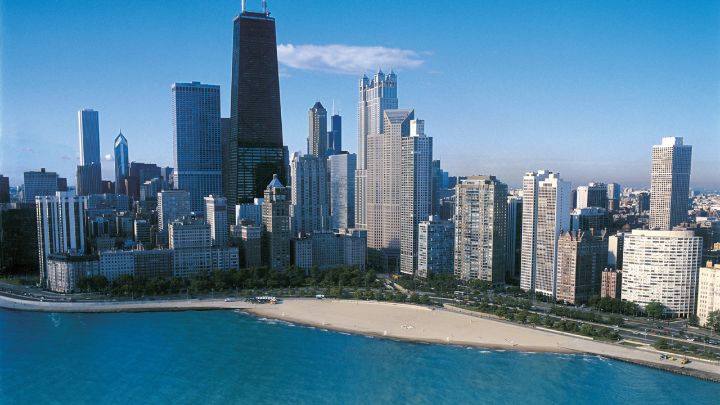 Day 1- Fly into Midway
Train into the Loop
Check into Hotel
Chicago's First Lady Cruise
http://www.cruisechicago.com/
Lunch
Rest- Free Time
Willette (Sears Tower)
Dinner- Bavette's
Hotel
Day 2-
Breakfast at Yolk


Air:Southwest- Manchester, NH to Midway Airport
Hotel- Marriott Magnificent Mile
Breakfast: Yolk - Best in City
http://eatyolk.com/
Lunch- Lou Malnati's Pizzeria
http://www.loumalnatis.com/

Dinner- Steak at Bavettes Bar & Boeuf
http://bavetteschicago.com/
Hot dogs- Portillo's (City-wide)
http://www.portillos.com/our-story/
Tours-
Chicago's First Lady- the Official Architecture Foundation River Cruise -

Each Chicago Architecture Foundation architecture river cruise is led by a highly trained, volunteer docent, aboard Chicago's First Lady Cruises. These architecture experts guide visitors along the Chicago River for an unparalleled view of Chicago's architecture.
Air Deck- Willis (Sears) Tower
http://www.willistower.com/
Spa/Salon- Aveda Institute Chicago
http://douglasj.edu/chicago-school.html
Nightlife- The Second City Comedy Show
http://www.secondcity.com/

The Green Mill - Jazz
http://greenmilljazz.com/

Film- Chicago International Film Festival
http://www.chicagofilmfestival.com/
Museums-

Museum of Science and Industry - a long bus ride, but the U-505 sub is worth it!
http://www.msichicago.org/whats-here/exhibits/u-505/

Art Institute of Chicago (artic.edu)
http://www.chicagofilmfestival.com/
"I am the geographer of my dreams"- James Ensor, Belgian Artist
https://www.youtube.com/watch?v=jjCo_ui3zuA
"Never been to Chicago? Put it on your bucket list now!"
I always had the Windy City on my bucket list- the architecture, the food, those friendly Mid-Western people, the neighborhoods, the Lake, the Loop…but never had the chance to go.
So I just did it- I booked the ticket and researched how to get there, where to stay, what to do, and most importantly- where to eat and spa and shop!
Travel to Chicago:
Fly into Midway Airport only- it's the best way to avoid delays and congestion at other airports.
Take the long walk (or wheelchair if needed) to the Metro stop at Midway- it takes you right to the Loop and all the hotels downtown,etc.
Stay at a Hotwire.com hotel- 4,4.5 or 5-star is my preference- I got the Marriott Magnificient Mile- top suite- great deal and prime location.
Eat at the world famous pizza place, hot dogs, and steak- here's where I ate:
With so many tours/activites- how do I decide?
I did tons of research on social media/websites, and found my top picks for 3 days, allowing for some down time and people watching/ (just being, not just running around and 'doing')
http://www.choosechicago.com/